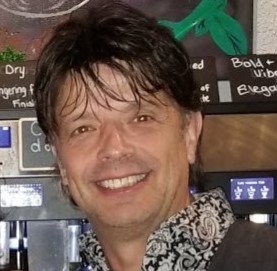 How to Cross Reference Low-Pressure Transducers to Find the Right One for You
Whether you're a facility manager, project engineer or calibration technician, you're required to maintain an owner's building automation system. But you may also be asked to provide "year over year" (YOY) savings with limited downtime and deliver peak efficiency performance throughout the life of the building.
The products that provide these efficiencies and energy savings are not all the same. When determining what to install, maintain and replace during this short timeframe, it helps to know if you're making an apples-to-apples or apples-to-oranges comparison.
This is greatly magnified when ultra-low-pressure measurement is concerned to monitor static duct pressure, differential pressure (DP) across filters, clean room spaces and building pressurization. A 1% error on a 0-100PSI gauge sensor might be an acceptable error, but on a 0-2.5-inch range, it can have significant effects.
There are many different pressure transducers available on the market today, but they dramatically differ in quality, accuracy, stability, reliability and other important features.
Whether it's at start-up or as part of the ongoing maintenance of the building, the wrong choice in instrumentation can incur inefficiencies, balancing issues and poor long-term equipment performance. Not only does this result in higher operating costs and unpleasant experiences for the occupants, but also could affect safety, throughput and quality in critical applications.
How can you ensure you have chosen the best low-pressure transducer for your needs? Or, if you aren't satisfied with your current transducer, how can you find the right one?
I have helped many customers make the right low-pressure transducer decision during my years in this industry with side-by-side comparisons to other suppliers and determining how they stack up against each other.
In this article, we will explore my method of cross-referencing transducers to help you find the best one for your application.
How to Identify a Transducer
If you are looking for a replacement transducer, let's start with identifying the one you currently have. Who is the manufacturer? What is the specific model, and does it have a part number? Both the range and output should be clearly stated or can be determined by deciphering the part number.
At this point, I would take that information and search the web for the manufacturer, model and/or part number to determine what I have in hand. What features does it have that are important to you? What's the performance, technology, stability, housing type, ease of certification (in pharma applications), etc.? Has it met your performance criteria? Are you happy with the original choice or are you looking for alternatives?
Once you have all of this information, you can compare your transducer to others on the market and ensure you are getting one that has everything you need.
Considerations When Replacing a Transducer
There is much to consider as you replace your low-pressure transducer to find the best replacement possible. Did it fail or not meet your application's needs? Did it stop performing over time? Did the product drift during your calibration intervals? Does the output reveal that the accuracy isn't as stated on the spec sheet?
Ultimately, you need to understand why you are going through this exercise.
If the decision is to replace the unit with another supplier, you must also consider:
Do they have a drop-in replacement to what is installed today?

Is the form-fit-function close enough to not add cost to the replacement?

Does the output tie to the Controller/Display module?

Is new wiring required?

Will it fit in the allotted space?

Is there anything that you want to enhance with the changeover?

Does this product address the issues causing the need for replacement?
We understand that it is time-consuming to answer all these questions and make an informed decision. You need to search multiple websites, find the corresponding model, compare performance specifications (that are never consistent from manufacturer to manufacturer) and so on. Let us help you!
Cross-Referencing Pressure Transducers
First, you need to answer these questions:
What is the product doing in the application?

What is needed in the application and did the other product provide that? If not, why?

Is accuracy the main driver? True low-range performance? Stability? Resolution? Repeatability? Hi Overload?

The proper range, output and/or feature set.
To compare the many suppliers, we develop a side-by-side analysis of each supplier where we have taken all the specification sheets of these similar products and documented all the features (using the supplier's own content) into a simple-to-follow matrix (see Figure 1 below).
This allows the customer to make an informed decision.
Figure 1: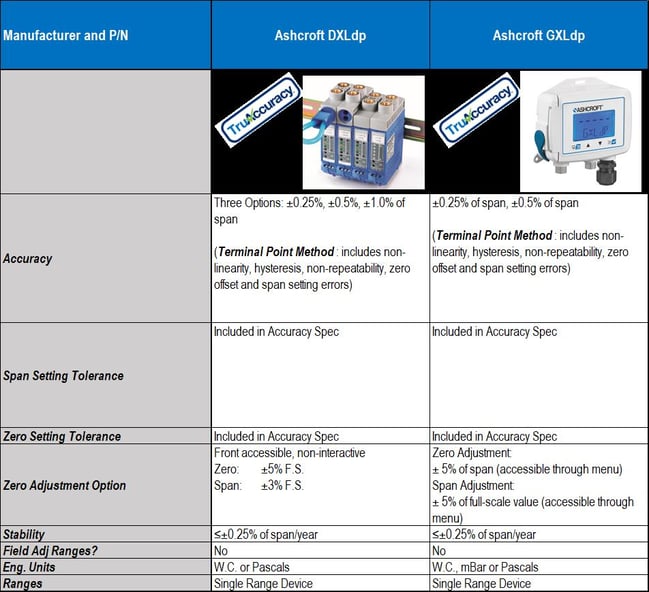 Features I compare include technology, accuracy, zero/span setting tolerances, pressure ranges, output, stability, thermal performance and certifications.
This is done with no bias towards one supplier vs. the other, as we use the specification sheets that are available from each manufacturer and report the data – no interpretation needed! As they say, the numbers do not lie.
You can contact your Ashcroft representative and we can easily generate a side-by-side matrix highlighting each product's performance.
If the business levels justify your need for real-world data and you want us to attempt to replicate your application, we also offer onsite testing at our facility in Stratford, CT.
We know it can be difficult for customers to test pressure transducers. You need the equipment, the means to make pressure, means to compare, etc., so we have a test lab onsite where we can run tests on products that you are considering, as long as we also include our products alongside those competitive offerings to determine how we stack up against the competition per your testing requirements!
We happily offer you the opportunity to come and visit our facility to witness the testing. But with or without you here, we ensure that the results are unbiased and scientific. We will provide a detailed test report, allowing you to make the most informed decision for your application needs.
In any case, we are happy to discuss your application and your end goal so we can provide guidance on what best meets your needs. If Ashcroft cannot provide the best solution for you, we will suggest a competitor's product that will!
We simply want to help you make the best choice for your needs.
We don't like to pressure you, but we have more information.
Now that you know how to cross-reference different transducers, you can find the right solution for your process. If we do not already have a comparison for your particular transducer, we will put one together for you!
If you want to learn more about pressure transducers, you can check out some of our other blog posts:
Feel free to contact us today to talk to one of our industry experts and get all your measuring instrumentation questions answered. You can also download our eBook to learn how accurate your accuracy statement is:
About Tiago Anes, Director of Major Accounts
Tiago Anes is a Director of Major Accounts in Industrial/HVAC Markets at Ashcroft. He has 30 years of experience in global sales and as a marketing executive in Corporate Sales, Customer Service, Product and Business Development in various markets within HVAC, aerospace, semiconductor, and test and measurement.