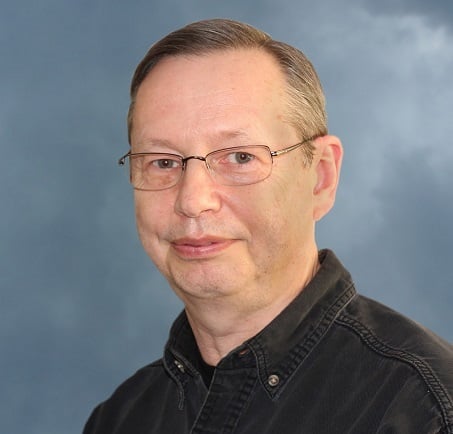 Product Review: MEMS Pressure Transducer Sensor Technology
Accurate and reliable pressure measurements are crucial to maintaining the efficiency of your low-pressure applications, such as in cleanrooms and isolation rooms. For these critical applications in the health industry, inaccurate measurements could result in the contamination of your entire process.
How can you ensure your pressure transducer can handle your low-pressure environment?
The engineers here at Ashcroft have developed silicon MEMS sensor technology that performs well in low-pressure environments with precision and reliability. Let's go through the features of this sensor and what it can do for your process.
How Does It Work?
This sensor is a state-of-the-art variable capacitance design with a glass-clad silicon chip. The Si-Glas™ technology combines the high sensitivity of a variable capacitance transducer with the repeatability of a micro-machined, single-crystal silicon diaphragm.
The Si-Glas™ sensor is composed of sputtered metals and glass molecularly bonded to silicon. There are no epoxies or other organics in the sensor to contribute to drift or mechanical degradation over time. The silicon diaphragm is perfectly elastic, yielding outstanding repeatability, stability and high proof pressures.
As shown in Figure 1, when greater pressure is applied to the lower side, the silicon diaphragm deflects upward. So, the top capacitive signal "C1" increases, while the bottom capacitive signal "C2" decreases.
The Silicon SiGlas™ sensor is designed to create two capacitors that vary as the diaphragm is displaced due to differential pressure.
Figure 1: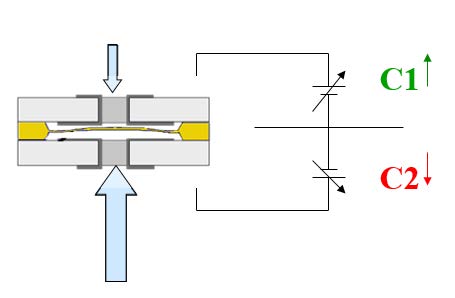 As shown in Figure 2, when greater pressure is applied to the higher side, the silicon diaphragm deflects downward. The top capacitive signal "C1" decreases, while the bottom capacitive signal "C2" increases.
Figure 2: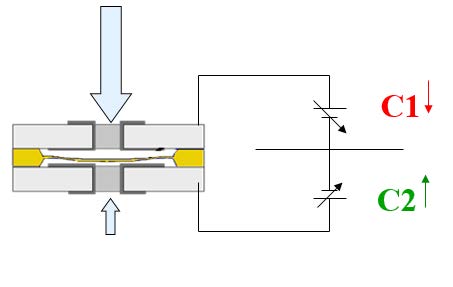 Important Features
Silicon diaphragm sensors using the differential capacitance principle of operation have the advantage of a perfectly elastic diaphragm and are better able to handle overpressure and pressure spikes. Due to the extremely small size and low mass, they are far less sensitive than larger and heavier metal diaphragms.
As they are dead-ended sensors, they can be used in critical/isolation and leak detection systems. However, because they are offered in very low ranges, they will also meet the requirements of most applications.
Industries and Applications
Three examples of typical very low-pressure applications in which the MEMS sensor would be beneficial include air flow measurement, critical room pressurization measurement, and leak detection. Each of these applications presents its own unique challenges.
Other applications include:
HVAC/R

Building Energy Management

Comfort Control Systems

Bio-pharm

Bio-tech

Clean Room / Laboratory Pressurization

Room Pressurization and Control

Velocity Pressure
Visit our product pages to learn about the GXLdp, DXLdp and CXLdp transmitters, which are equipped with silicon MEMS sensor technology, and see the industries and applications for which they were created.
Wrap Up
Measuring very low pressures in small volumes with accuracy and repeatability requires a specialized sensor like no other. The sensor's design, manufacturing process and installation methods will determine whether or not the transducer is able to deliver the long-term stability, accuracy and resolution necessary to provide meaningful measurements.
Ashcroft's MEMS silicon diaphragm, capacitance type sensors have proven the virtues of this technology through years of use in a wide variety of very low-pressure applications.
Now that you know about our MEMS sensor technology and what it can do for your low-pressure transmitters, you can chat with one of our experts to decide if it's the right solution for your application.
You can also read the white paper I wrote about this topic: Advantages of Silicon MEMS Sensing Technology.
If you want to learn more about pressure transmitters for your low-pressure applications, here are a few related articles to check out:
Find out more about HVAC/R instrumentation in our eBook, Pressure and Temperature Instrumentation for HVAC/R Systems:
About Dave Dlugos, Product Marketing Leader, Temperature Products
Dave Dlugos has a BSEE degree and 40 years of experience in the measurement industry performing design engineering and product management. He has earned 4 U.S. patents and joined Ashcroft in 2007, currently as the Product Marketing Leader for Temperature products. He is a senior member of the International Society of Automation (ISA), past ISA District 1, Vice President, ISA water and wastewater division board member and the President of CT Valley ISA Section.