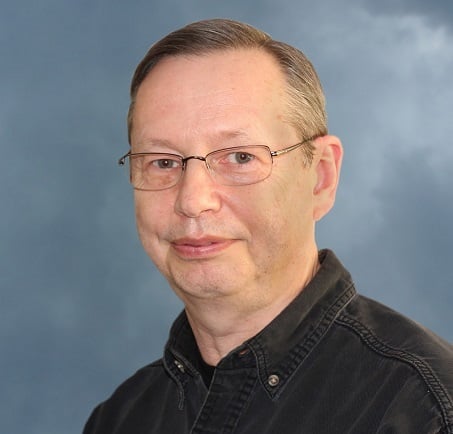 Class and Division Codes on Explosion-Proof Pressure Switches
When your application involves hazardous locations, it's important to use instruments that are up to the challenges these applications can offer. In environments with a fire or explosion risk, the wrong pressure instruments can lead to operator injury, equipment damage or worse.
How can you avoid these problems?
There are specific class and division codes that identify explosion-proof pressure switches and what is required to ensure they are safe to use in hazardous locations.
This article will discuss what these codes mean and what they can mean for your application.
Hazardous Location Requirements for Pressure Switches
A hazardous location is an area where the possibility or risk of fire or explosion might occur due to an explosive atmosphere or mixture present. Electrical equipment like pressure switches used in these hazardous areas must be designed to contain or prevent a fire or explosion.
Class and Division Codes
Hazardous Locations are defined by organizations and standards. In America, hazardous locations are defined by the National Fire Protection Association by a standard (or code) NFPA 70. This is the National Electric Code (NEC). The Canadian Electric Code (CEC) is very similar to the NEC.
Globally, the International Electrotechnical Commission IEC standards define hazardous locations.
Code-Enforcing Authority
In order to enforce these codes, certain figures have been given authority. The code-enforcing authority is responsible for approving a specific installation. These include a local inspector, insurance underwriter's representative and municipal authority (i.e., Fire Marshal or Electrical Inspector).
All equipment being used must be able to meet the specific division or zone requirements and be clearly marked with its ratings (see Figure 1 below).
Figure 1: Code Markings on an Ashcroft Product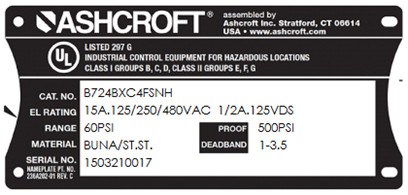 A nationally recognized testing lab (NRTL) can certify your product. NRTLs are organizations empowered by OSHA to certify compliance with recognized standards. These include:
Underwriter's Laboratories (UL)

Factory Mutual Research Corporation (FM)

Canadian Standards Association (CSA)
All of these NRTLs test to the NEC or CEC codes following their own test procedures or standards. They can also test to the IEC standards and, through their own international associations, issue ATEX or IECEx approvals.
A note of caution: UL, FM, and CSA offer approvals for other safety requirements, so you need to be sure of which specific approval the instrument has. The instrument label will clearly identify any hazardous location approvals and requirements.
The Division System is based on the NEC 500 codes (see Figure 2 below):
Division 1 is the most hazardous location with hazards present under normal conditions.

Division 2 is an area where the hazard is not present in normal conditions but could be present in abnormal operations like the surrounding air.
Figure 2: Division System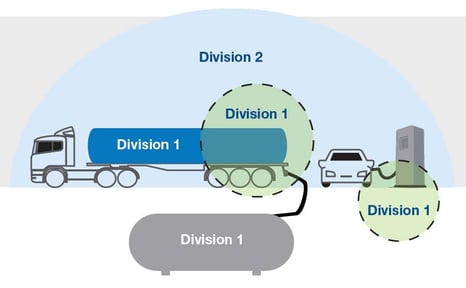 The Zone system is based on the IEC standards and used in the NEC505, ATEX, IECEx and INMETRO systems (see Figure 3 below):
In Zone 0 the hazard is continuously present in the underground gas tank and the gas tanker truck.

Zone 1 is an area where the hazard is most likely to occur like the piping on the tanker truck and the gas pump piping.

Zone 2 is an area where the hazard is not likely to occur, like the surrounding air.
Figure 3: Zone System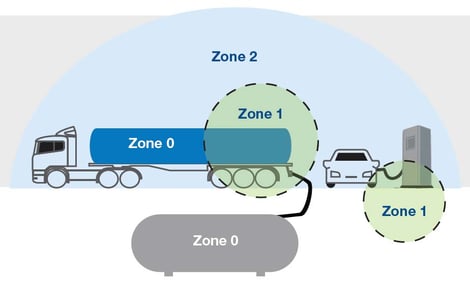 Preventing an Explosion
To have a fire you need to have all three of these components present: flammable material (fuel), air (oxygen) and an ignition source (see Figure 4 below).
Figure 4: Fire Triangle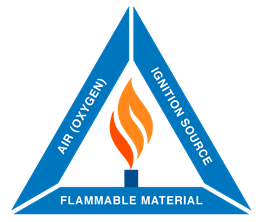 If you remove any one of the components you will not have a fire. The methods used for instruments to prevent a fire or explosion is to eliminate the ignition source by either containment or by limiting energy.
Explosion Proof or Flame Proof
This means containing a defined explosion, as these enclosures have specially designed flame paths, which allows the internal explosion to vent without a flame escaping the enclosure.
Intrinsic Safety
In this case, you are limiting the energy applied to an instrument to prevent an explosion from occurring by using an approved barrier. The barrier is the buffer between the hazardous location and the non-hazardous locations. This is the safest method and is the only method approved for Zone 0 applications.
Nonincendive
This involves limiting the energy that is applied to an instrument to prevent an explosion from occurring by without the use of a barrier. The user's design must limit the energy to the instrument. This can only be used in division 2 hazardous areas.
Simple Apparatus
This device cannot generate nor store energy like a dry contact microswitch. These simple apparatuses can be used with an approved barrier in intrinsically safe applications as long as the barrier's approval includes the use of simple apparatuses.
Ashcroft Pressure Switch Approvals
Which Ashcroft pressure switches are rated explosion proof?
Which switches can be used with an intrinsically safe barrier?
We don't like to pressure you, but we have more information.
Understanding the hazardous area classification requirements of your application is critical in selecting instruments that will operate safely. Know who the code enforcing authority is and/or which approval type or agency is required. Substitutions or alternative methods may not be acceptable.
Also, make sure all associated wiring is performed in accordance with the method of protection type you are using, and the wetted materials of the instrument are compatible with the process media.
If you want to learn more about pressure switches, we have a video available on the basic calibration instruments for Ashcroft pressure switches.
And feel free to read our other articles about pressure switches:
Ashcroft can help you find the right pressure switch for your process. Contact us today to talk to one of our industry experts and get your questions answered.
You can also review our guide to the hazards and safe operation of pressure and temperature instrumentation in hydrogen systems:
About Dave Dlugos, Product Marketing Leader, Temperature Products
Dave Dlugos has a BSEE degree and 40 years of experience in the measurement industry performing design engineering and product management. He has earned 4 U.S. patents and joined Ashcroft in 2007, currently as the Product Marketing Leader for Temperature products. He is a senior member of the International Society of Automation (ISA), past ISA District 1, Vice President, ISA water and wastewater division board member and the President of CT Valley ISA Section.