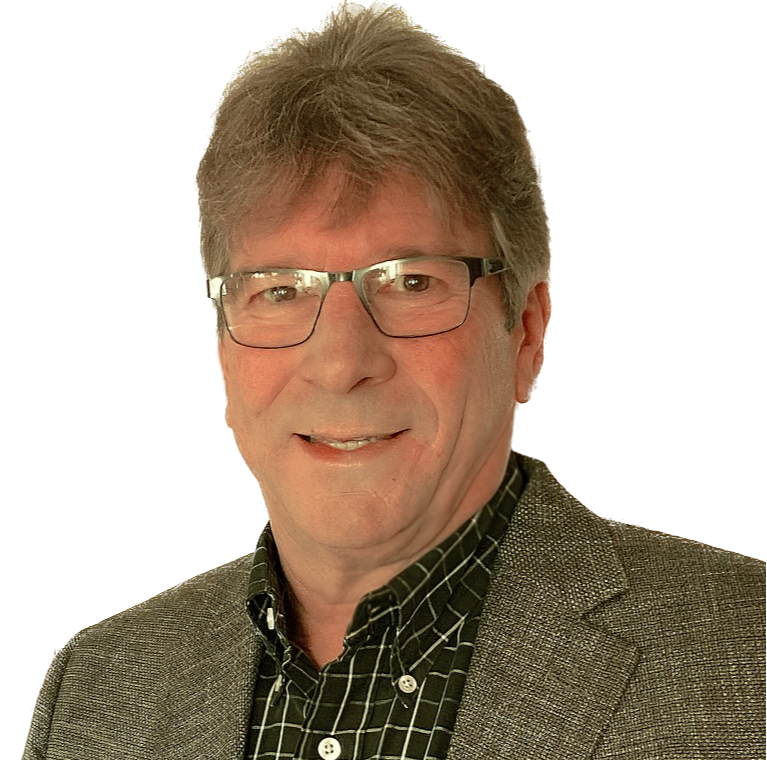 4 Important Benefits of Critical Application Instrument Audits
When your organization operates equipment in critical processes – from plants dealing with hazardous chemicals to power stations providing energy for thousands of households – you can't afford to have any questions about the accuracy and effectiveness of your pressure and temperature instruments.

For these critical applications, your instruments need to be dependable and function the way your operators expect. It's not always enough to perform the normal set of daily checks done by the team. From time to time, you need a more full-scale solution that gives you an in-depth understanding of how your instruments are performing and what needs to be improved.

An instrument audit like the one Ashcroft offers in our Critical Application Solution Experts® (CASE®) service could be the perfect solution for helping you keep your equipment in top condition. In this article, we'll explain what's involved in our CASE audit and list some of its benefits for plant managers who pursue one.
What is an Instrument Audit and Why Perform One?
An instrument audit is a comprehensive process for reviewing and analyzing existing pressure and temperature instruments to ensure they are delivering accurate readings. It provides insights into the current status and performance of every instrument covered in the scope of the audit. Instrument conditions and performance are documented, and recommendations for any necessary improvements or adjustments are provided.

In Ashcroft's 170 years of history of providing instrumentation solutions for critical applications, we've found safety to be a key driver of audit requests. Ensuring the application doesn't cause harm to any nearby equipment or people is one of the foremost concerns for industrial supervisors.

The other big concern for plant managers is system performance. In a critical application, it's even more important that all elements are working properly – which typically starts with accurate pressure and temperature instruments. An audit will identify any potential problem or vulnerability within the instruments of your system so that you can address it before it turns into a more serious issue.
What are the Benefits of a CASE® Audit?
An Ashcroft CASE® audit takes everything our critical application customers need to successfully audit their instruments and combines it in one convenient service package. The process goes beyond just telling you whether your instruments are functioning properly or not and aims to help ensure the functionality of your instruments long after the initial audit is completed.

There are four aspects of an Ashcroft CASE® audit for critical applications.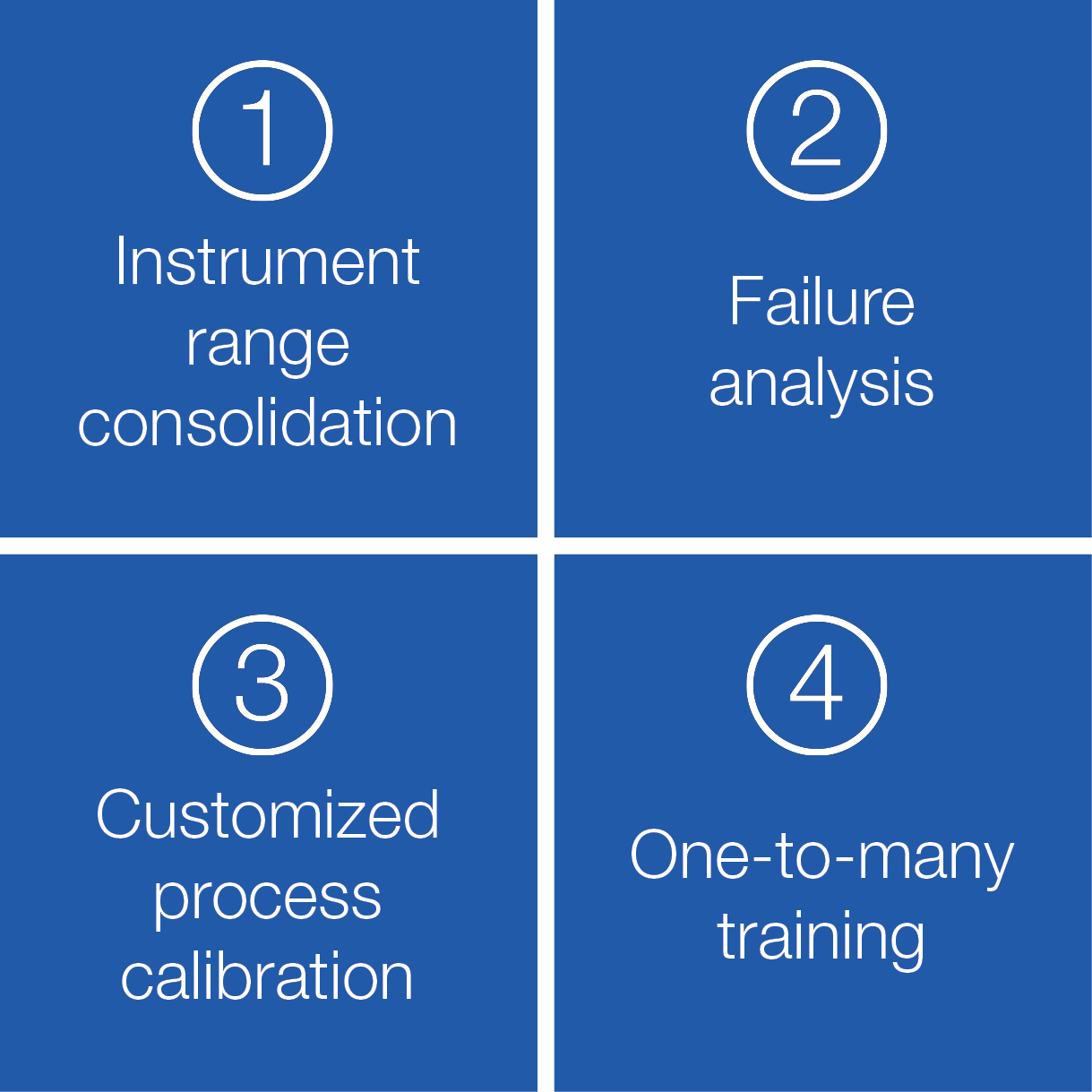 Let's review what each service entails and how it will benefit you.
1. Instrument Range Consolidation
One of the most common instrument challenges we see customers dealing with is disparate ranges across various sets of instruments. For example, you may have used pressure gauges that go from 0 to 100 psi when your system was initially constructed but perhaps had to use 0 to 300 psi gauges due to improper ranges stocked.

It's easy to see why this can cause challenges for operators and technicians. Having multiple ranges in stock makes it more difficult to properly select a replacement gauge, which can cause more difficulty in accurately measuring and recording data. An Ashcroft CASE® audit can help standardize your instrument ranges to streamline the process of gathering data and reducing costs by eliminating ranges not required based upon process operating parameters.
Here's just one example of what you might find before and after a CASE® Audit.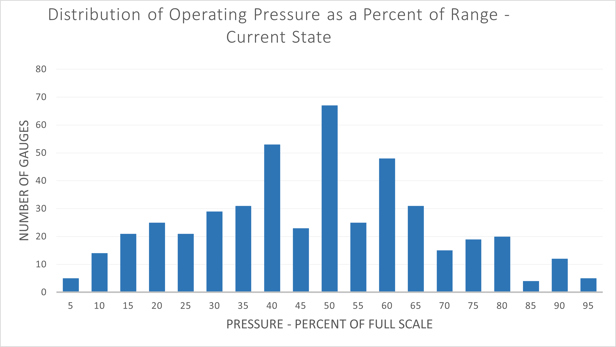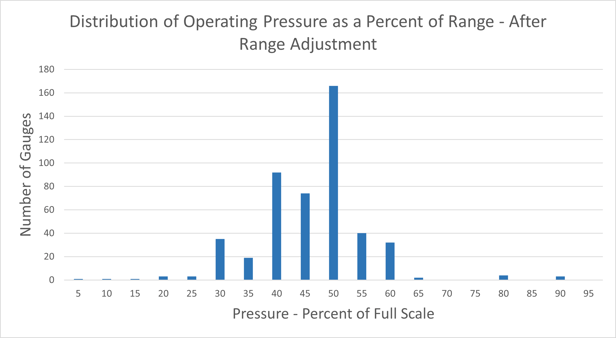 2. Failure Analysis
While failure is never a good thing – especially in critical applications with serious consequences for even a small slip-up in efficiency – it does provide a lot of helpful data to learn from. In our CASE® audit, we include this as a process called failure analysis. We take a look at all the data we can gather about what was going on with your instruments and the broader system at the time of the failure to determine the root cause.

From there, we'll work with you to create systems that help prevent the same situation from occurring in the future. Thanks to technology, we can even conduct remote failure analysis and tests to ensure work done on-site remains consistent after the initial audit. Our team works with you to get the future system failure rate as close to 0% as possible.
3. Customized Process Solutions
Instrument calibration is always best performed in situations that are tailor-made for your needs. From weather conditions to system size and power capacity, it's important that your pressure and temperature instruments are calibrated to the kinds of situations they'll be facing in the real world.

For our CASE® audit, process operating conditions are documented, and gauges that are damaged or require review due to improper readings are targeted. Ashcroft's engineering lab can then review your process in detail to provide solutions for metallurgy, pulsation, vibration, and over-pressure or over-temperature applications. This ensures your instruments are properly selected and will hold calibration and remain in process for longer periods of time, greatly reducing the need to replace them.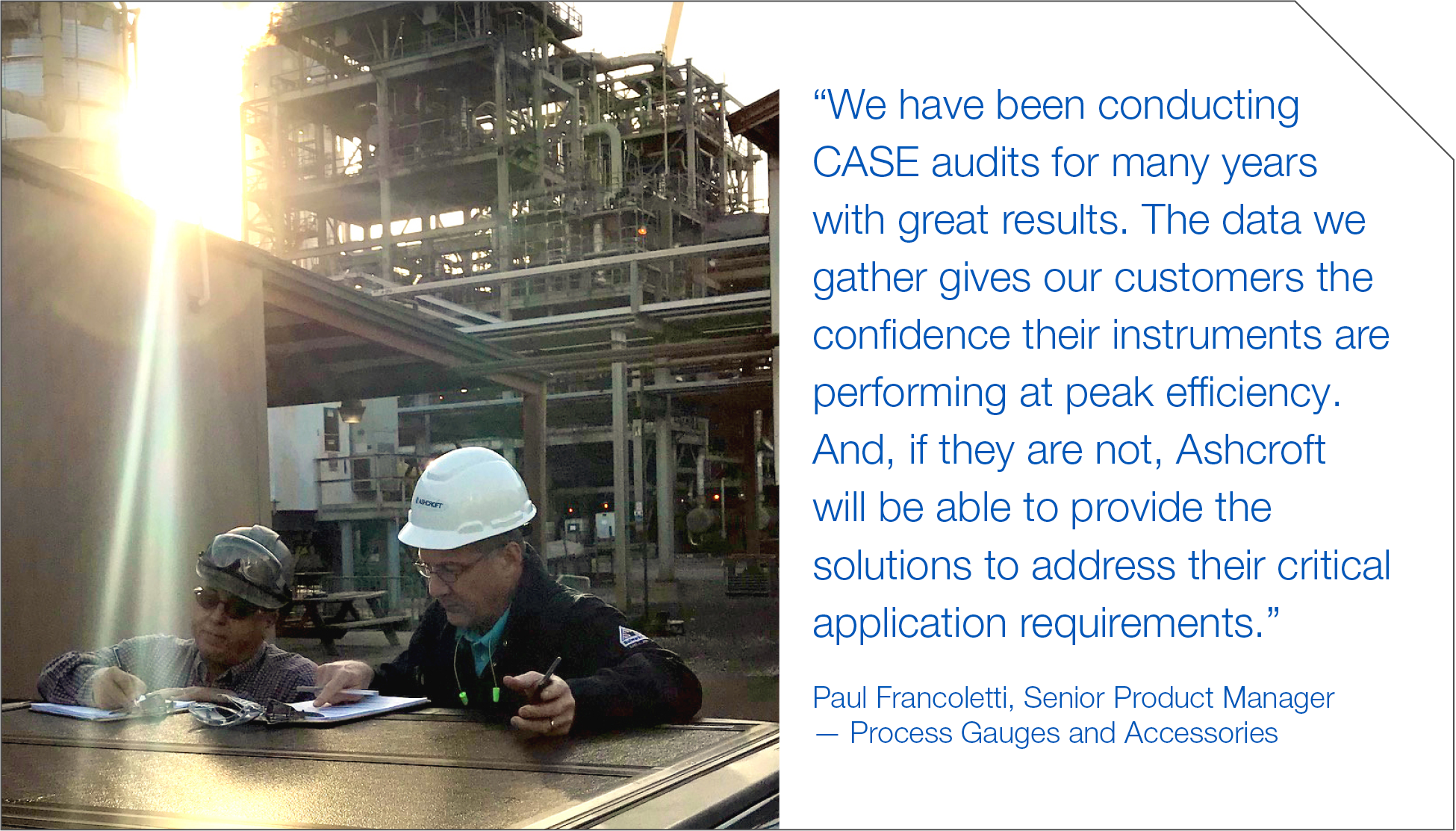 4. One-to-many Training for Your Team
For any organization that deals with critical applications, training and certification is always a big concern. Certain members of the team may require permits or licenses that their employer needs to pay for each year. For these kinds of companies, it's much more effective to engage in training for as large a group of people as possible.

As part of our CASE® audit, we can schedule customer education programs at your facility to ensure everyone on your team has the knowledge necessary on instrument calibration. Plus, you will continue to have an Ashcroft CASE® expert on our team, in case something changes in the future, or you have questions about the audit.
CASE® Applications in the Real World
Wondering what all this looks like when it's applied during a real audit? Check out two "CASE studies" from previous customers:
CASE study 1

explains how our gauge assembly recommendations for a customer with a hydrofluoric acid (HF) alkylation unit helped them create a system to detect and resolve acid leaks

CASE study 2 shows how we worked with a petrochemical refinery customer to diagnose 17% of their gauges as damaged during our initial audit, then upgrade their instrument technology to reduce gauge inventory by 50%.
Is a Critical Application Instrument Audit Right for You?
As an organization dealing with critical applications, we understand how frustrating it can be to spend significant time and resources on instrument calibration only for issues to crop up with devices. Instead of replacing equipment without solving the real problem or resorting to quick-fix options that don't truly address your issues, consider working with an outside expert to get confirmation that your instrumentation is working properly.

Whether it's before expanding your system, after moving to a new location or any other scenario that calls for an instrument audit, be sure to go about the process strategically so you can maintain process safety and efficiency for the long run.
You can request an Ashcroft CASE® Audit or see how to prevent pressure equipment failure by downloading our guide:

To learn more about pressure gauges, here are a few other articles to read:
Feel free to contact us today to talk to one of our industry experts and get your questions answered.
About Bob Pierce, Territory Sales Manager
Bob Pierce is the Territory Sales Manager (Channels/Distribution), responsible for 6 states in the Southeast Gulf Coast region. He started his career at Ashcroft in 2018 with 25+ years of experience in the fields of Instrumentation and Control Valves. Bob has a Bachelor of Science degree in the School of Business from the University of Alabama – Birmingham.