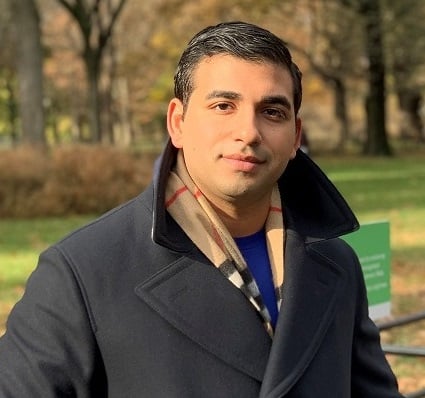 Solid Front vs. Open Front Pressure Gauges
Your business depends on reliable, accurate and safe pressure measurements and instruments to keep running smoothly. Some pressure gauges even offer safety features to ensure that your workers are protected from harm.
One such safety feature is a solid front case option. Solid and open front gauges both have their merits, but the solid front option is considered the safer version.
So, what makes solid front pressure gauges a safer option for your operators?
This article will describe the differences between solid or open gauge cases and the benefits they offer so you can decide which one is right for your application.
How Do Solid Front Pressure Gauges Work?
Due to extreme process overpressure, excessive vibration/pulsation, fatigue and/or incompatible process media, a pressure gauge system may rupture once it has been compromised. This is where protection of the solid front design proves crucial.
The solid wall and blow-out back safety design serve to deflect escaping pressure, process media and fragmentary debris towards the back of the instrument and away from the operator (see Figure 1 below). This helps keep your workers less susceptible to injury or worse.
Figure 1: Solid Front Pressure Gauge Operation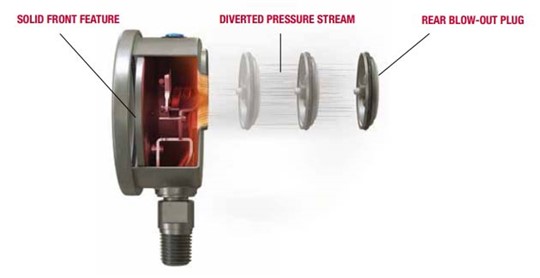 Solid front gauges deliver an added layer of protection that is especially useful when used on:
Compressed gases

Hazardous, flammable or explosive media

Oxygen or hydrogen

Systems susceptible to overpressure
Solid front gauges evolved due to process failures resulting in increasing damages/injuries. Incorporating an integral "solid" wall into the case structure, situated immediately behind the indicating dial, allows only the pointer shaft to protrude towards the front.
All other system-related parts are contained (isolated) in the rearmost case section. This proved to be vital to instrument installations within refineries, chemical facilities and process plants where they are specified standards.
Safety of Solid Front Gauges vs. Open Front Gauges
There are some types of failure that cannot be contained within any case. A solid front case has a better chance of protecting the gauge user. A metal (stainless steel or aluminum) solid front case will survive an explosion that may fragment a thermoplastic or thermoset case.
Open front gauges will not perform like a solid front design in the event of a violent failure. Solid front gauges are supplied with a pressure relief back. Open front gauges are supplied with a pressure relief plug.
Both will safely relieve case pressure in the event of a slow leak in the pressure system.
There is no ASME standard test for cases. No test simulates a high-pressure gas rupture of the Bourdon tube or an explosion inside the tube. Most tests merely introduce pressure into the case through the socket at a rate far slower than that which occurs during an explosive failure and therefore, will not truly demonstrate the advantages of a solid front case.
Specifics of Small and Large Volume Pressure Elements
One factor that determines the violence of an explosion, especially when caused by overpressure with gas, is the volume contained within the Bourdon tube.
Just before rupture, the Bourdon tube generally is distorted to a shape containing a larger volume than its original volume, this volume of compressed gas contains energy proportional to the burst pressure and the larger the volume, the more energy is released when the Bourdon tube ruptures.
A more important consideration, however, is the pressure at which the Bourdon tube ruptures.
If a Bourdon tube is designed to rupture at relatively low pressure, there is much less energy released. Conversely, a Bourdon tube designed to withstand very high overpressure before failure will release much more energy when failure does occur.
A higher-pressure Bourdon tube will rupture at a much higher value, subjecting the case to a much higher-pressure buildup. Higher pressures, however, generally involve liquids, which result in much less violent failures than gasses. This is because liquids, being essentially non-compressible, do not store anywhere as much energy as gasses.
We don't like to pressure you, but we have more information.
Now that you understand the impact that media temperature can have on your measurement instrumentation, you can research the solution that's right for your application.
Ashcroft offers pressure gauges with solid front safety features, such as the 8008S Pressure Gauge with XS3 option and the 1279 Pressure Gauge. The solid front (baffle wall) feature with a rear blow-out plug diverts pressure away from the operator if the Bourdon tube should rupture.
If you want to learn more about pressure gauges, here are a few related articles to check out:
Feel free to contact us today to talk to one of our industry experts and get your pressure gauge questions answered.
About Eric Deoliveira, Product Marketing Leader
Eric Deoliveira is a Product Marketing Leader at Ashcroft, Inc. He is currently responsible for pressure gauges, sanitary gauges, high-purity gauges, diaphragm seals and isolation rings. He's been with Ashcroft since 2015 and spent 3 years as a Product Support Engineer for Mechanical Temperature before transitioning into the Product Manager role. Eric enjoys coming up with solutions for customer problems and introducing new products to satisfy the needs of the market. When not working on his products, he is out golfing in the summer and skiing in the winter.