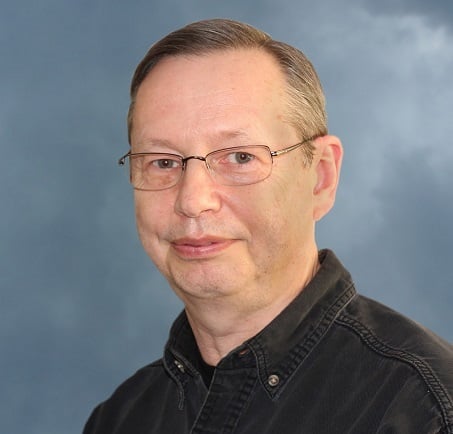 Choosing the Right Microswitch for your Application
Your pressure switch can be impacted by many factors when used in an application. Pressure and temperature ranges can interfere with your measurements if you are using the wrong pressure instrument for the job. An appropriate microswitch for your pressure switch can mean the difference between a reliable, repeatable reading or not.
How can you ensure you are choosing the right microswitch for your application?
This article will discuss the different microswitch options available and for which applications they are best suited.
What is a Microswitch?
The microswitch is the element inside of pressure switches that turns the switch on or off. You can find them as single pole double throw, meaning it has one "arm" that can go left or right for open contact or closed contact.
Figure 1: Single Pole Double Throw Switch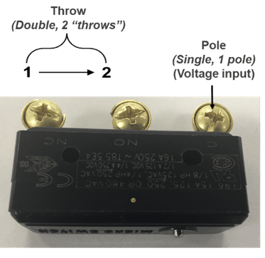 You may also combine two of them to have a switch that acts as a double pole double throw switch. This is useful if you need to switch between two different electrical loads.
Figure 2: Double Pole Double Throw Switch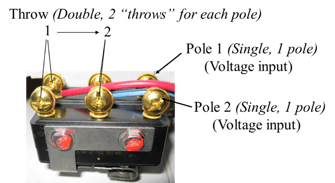 The electrical load, deadband, ratings and other factors are important to consider when selecting the right microswitch.
Selecting a Microswitch
The first thing you need to do when choosing a microswitch is know your electrical load. Is it using alternating current or direct current (AC or DC)? What is the voltage and current? Is it inductive (as in most industrial applications like pumps or motors) or resistive (like lightbulbs or alarms)?
If a microswitch is used improperly or overloaded, you will have premature failure of the microswitch. It can burn open causing a break (no switching action), or contacts can become welded together causing a short.
Choose a microswitch based on its electrical ratings. Different switches have different limits for how much electrical current they can handle, and you need these elements to match to ensure the proper operation of your application.
Also consider deadband, which is the difference between when a switch turns on and when it turns off. This is rated in psi but directly related to the travel of the microswitch plunger.
There are also other microswitch options:
Hermetically sealed microswitches, which have lower current ratings and are good for environmental ratings (for use in corrosive atmospheres)

Heavy duty AC/DC switches

Switches for high-temperature environments

Switches with a manual reset, which is useful in applications such as furnaces, so it stays off until it's repaired and manually started back up
Microswitches also come in silver and gold options, depending on the application. Standard microswitches have silver contacts, but if the application has low currents such as being connected to a PLC and low voltages, the microswitch should have gold contacts.
The chart below gives a reference for when to choose gold or silver contacts:
Figure 3: When to Use Gold or Silver Contacts

Microswitch Options at Ashcroft
Ashcroft's B Series switches offer 14 microswitch options. The B Series can be used for applications including offshore oil rigs, chemical and petrochemical plants, pulp and paper mills, steel mills, power plants, water and sewage treatment plants and other corrosive environments.
We also offer general-purpose switches (15A at 125V, 250A at 450V AC).
You can reach out to our experts to find out more and receive help deciding which microswitch option would work best for your application.
We don't like to pressure you, but we have more information.
Now that you better understand microswitches and what types are available and for which applications, you can choose the best solution for you. Just remember not to mismatch your microswitch with your application's electrical load because it could cause premature failure of your pressure switch.
If you want to learn more about pressure switches, we have a video available on the basic calibration instruments for Ashcroft pressure switches.
You can also read our other articles about pressure switches:
Ashcroft can help you find the right pressure switch for your process. Contact us today to talk to one of our industry experts and get your questions answered.
About Dave Dlugos, Product Marketing Leader, Temperature Products
Dave Dlugos has a BSEE degree and 40 years of experience in the measurement industry performing design engineering and product management. He has earned 4 U.S. patents and joined Ashcroft in 2007, currently as the Product Marketing Leader for Temperature products. He is a senior member of the International Society of Automation (ISA), past ISA District 1, Vice President, ISA water and wastewater division board member and the President of CT Valley ISA Section.