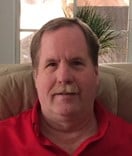 Why Use a Flushing Connection on a Diaphragm Seal?
A diaphragm seal is a useful accessory to protect your pressure measurement instruments from corrosive media or clogging from sludge or slurries, especially in wastewater processing. But diaphragm seals can also be at risk of clogging, which can lead to equipment failure and put a stop to your process.
So, how can you help protect your diaphragm seal from the negative effects of this type of process media?
A flushing connection can make it easier to clean out your diaphragm seal and prevent clogging. This article will explain what a flushing connection is, how it can help a diaphragm seal and in what instances it can be used.
What is a Flushing Connection?
In some situations, the diaphragm seal that is meant to protect your instrument also needs protecting from process media clogging the seal. A flushing connection allows an operator to flush debris from the surface of the diaphragm to prevent it from becoming clogged during an application.
It is typically a threaded auxiliary connection that is machined into the lower housing of a diaphragm seal. The diaphragm seal types available with a flushing connection are threaded or flanged.
When not in use, the flushing connection requires either a flushing plug or a valve. Both prevent the process media from escaping. The flushing plug should be of the same material as the lower housing for compatibility with the process. If a valve is used, be sure the wetted parts are compatible with the process media.
Flushing connections are available in 1/8 in., 1/4 in. and 1/2 in. sizes. Typically, a single flushing connection is used but dual flushing connections in either 1/4 in. or 1/2 in. are available.
When Should You Use a Flushing Connection?
There are many instances where you might use a flushing connection on your diaphragm seal. These applications include:
Flushing – The particulate plugging of the diaphragm seal pocket and diaphragm surface from a viscous or sticky process fluid. Flushing is typically done with high-pressure water, steam or other compatible fluid with your process media.
Draining – The flush port can be equipped with a valve for safely draining down the process pressure prior to instrument removal.
Sampling – Similar to the above, the flush port with an integral valve can be used for drawing off samples of the process media for testing or inspection purposes.
Purging – This involves adding an additional gas or liquid to the existing process media stream.
Calibration – This provides the ability to attach an external instrument to the process for the purpose of calibrating the mounted instrument without removal from the system.
Ashcroft manufactures many types of diaphragm seals equipped with integral flushing connections, including the 101 Threaded Diaphragm Seal (see Figure 1). When a flanged seal like the DF seal is used (see Figure 2), the flushing ring is a standalone accessory mounted between a flanged seal and the mating flange in your system (see Figure 3).
Figure 1: Ashcroft 101/201 Threaded Diaphragm Seal Lower Housing and Flush Port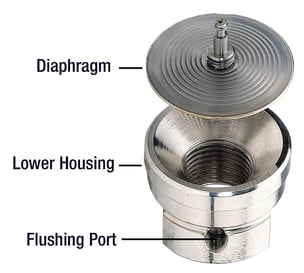 Figure 2: Ashcroft DF Seal
Figure 3: Ashcroft FR Flush Rings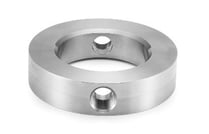 The flushing connection is an option you should always consider when any of the above situations may come into play in your application. However, there is an additional cost for flush port options, so if you will not require any of the above capabilities, we do not recommend using this option.
We don't like to pressure you, but we have more information.
Now that you know more about flushing connections for diaphragm seals, you can help protect your instruments from clogging or corrosion.
If you want more information on mounting accessories and assemblies, view our webinar about pressure instrument mounting assemblies or download our Complete Guide to Pressure Instrument Assembly.
We also have a few related blog articles:
Feel free to contact us with any questions or concerns. Our industry experts at Ashcroft can help answer your questions and get you back on track!
About Lance Dillon, Territory Sales Manager
Lance Dillon is the Territory Sales Manager for Ashcroft responsible for supporting distribution and OEM customers in the Northwest for the past 10 years. Prior to that, he was the Branch Manager at an Ashcroft distributor (including an onsite instrument shop providing diaphragm seal assembly and repair) for 23 years supporting end users with the complete Ashcroft product line.