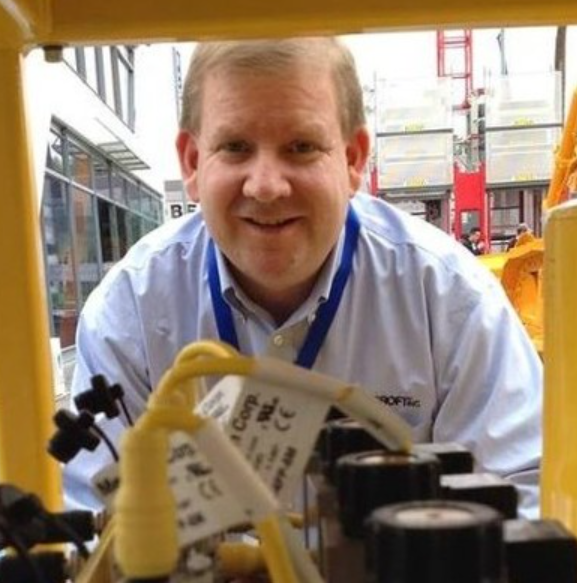 OEM High-Pressure Transducers: A Comparative Review
pressure transducers | ultra high pressure | pressure sensors | OEM
Pressure transducers are used to measure pressure levels in some of society's most critical OEM applications, from mobile hydraulics to pump monitoring to railroad pneumatics, performance racing, and more. Without an efficient, accurate pressure transducer, it's impossible for manufacturing processes to run smoothly and predictably. In the worst cases, uncontrolled or unmonitored pressure levels can put operators and equipment at risk.

Ashcroft has many years of experience designing pressure instruments for a variety of settings. We believe the key factors to consider when selecting an OEM pressure transducer are reliability, durability, and repeatability. In this article, we'll review these features in a little more depth, discuss some of the most common applications for these devices, and compare the specific options Ashcroft offers, including the G2 and the S1 models.

When you are finished reading, you will have a solid understanding of what to look for when selecting a pressure transducer for your application, the similarities and differences between these two models and be ready to make a decision about which is best for you.
.
All pressure transducers are not created equal.
If you are searching for a high-quality, reliable and cost-effective OEM pressure transducer, you need to pay close attention to the product features. There are a lot of transducer offerings from multiple vendors in the market and no regulations to use as a benchmark for quality.

Here's how we define quality in OEM pressure transducers:

Repeatability - When purchasing a pressure transducer, it's important to trust the measurement the instrument is providing. That means, whenever you test the pressure with the same tool, you will get a consistent reading every time. There is no need for a span adjustment.

Durability - Shock, vibration, pressure spikes and pulsation can all create a challenge for your equipment. If not appropriately designed, pressure transducers can be damaged under these operating conditions, so you want to be sure your pressure instrument is built to withstand rugged conditions. Our article, How to Protect and Optimize Pressure Transducers on Mobile Hydraulics goes into more detail for your reference.

Accuracy - There are no set standards for accuracy in regard to pressure transducers, so you want to confirm the pressure sensor you choose meets the minimum requirements of your specific application. One thing to look for is the sensor technology the transducer uses for reading pressure. Ashcroft, for instance, uses field-proven polysilicon, thin film (CVD) pressure sensor technology for our high-pressure OEM transducer models.

Now that you know the three key quality factors to look for, let's take a look at two of Ashcroft's best OEM high-pressure measuring instruments, the G2 and the S1.
Ashcroft's G2 OEM Pressure Transducer: When greater pressure range and accuracy are needed.
Our G2 model of OEM pressure transducer is a high-quality option that emphasizes durability and accuracy. As discussed above, the G2 is constructed with a field-ready polysilicon thin film pressure sensor that was created to offer solid durability and withstand substantial amounts of shock and vibrations.

For applications that involve extreme weather conditions or temperatures, the G2 is an excellent choice. Common applications for this device include heavy-duty construction equipment, including mobile hydraulics, agricultural implements and process control and automation systems.

Key features of the G2 include:

Made with 100% stainless steel wetted materials

High EMI/RFI immunity rating

Available with a range of voltage and 4-20mA output options

Measures pressure ranging from 30 to 20,000 psi

Is offered with several male process connection options
Accuracy is a primary advantage of the G2. Its Total Error Band accuracy that incorporates multiple types of accuracy errors. This includes the combined effects of non-linearity (Terminal Point Method), hysteresis, non-repeatability, temperature and zero offset and span setting errors.

Figure 1: Ashcroft G2 Transducer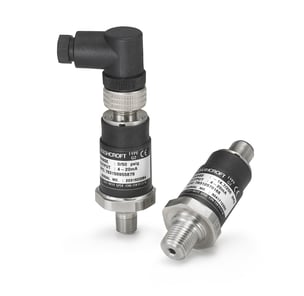 Ashcroft's S1 OEM Pressure Transducer: When higher volume and lower cost are needed.
To meet the growing demand of a quality OEM pressure transducer for high-volume applications at a more economical cost and faster lead times, we designed the S1. Like the G2, the S1 is also ideal for a variety of applications, including construction machinery, hydraulic and pneumatic sensing, transportation, agriculture and pump monitoring. In fact, both the G2 and the S1 share many of the same features, but with a few small differences. (See Comparing the G2 and S1 below)

Key features of the S1 include:
Built with 100% stainless-steel thin film that uses our proprietary chemical vapor deposition (CVD) sensor technology for reliability tested to 50 million cycles.


This model also uses our TruAccuracy™ standard based on the terminal point calibration method, allowing the S1 to be installed right out of the box without requiring any additional calibrations or adjustments.


Can operate and is compensated in temperatures ranging from -40°F to 257°F (-40°C to 125°C).


Measures pressure ranging from vacuum to 10,000 psi.



Offers both male and female process connections so you can use for a wide range of applications.
Additionally, the S1 uses a completely stainless steel sensor element that can be incorporated with stainless steel, aluminum, brass, or carbon steel housings/fittings.
Figure 2: Ashcroft S1 Transducer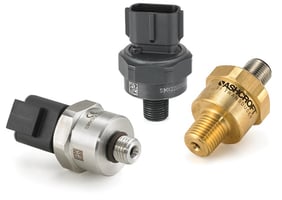 Comparing the G2 to the S1: Choosing the right OEM Pressure Transducer.

Now that you're more informed about these two pressure transducer models and their differences, you may be trying to figure out which one is most appropriate for your specific requirements.

While every client and application is different – even in the same industry – we can provide a few general recommendations:

Consider your realistic budget. While ideally you don't want budgetary constraints to be the primary deciding factor, from a practical standpoint it has to be an element of how you decide on a pressure transducer. If cost is a factor, the S1 is a good choice. However, there are minimum quantity requirements.


Determine what range of pressure you need to measure. As mentioned above, the minimum range of the G2 is 30 psi with a maximum range of 20,000 psi while the S1 has a minimum range of 15 psi (including vacuum) and a maximum range of 10,000 psi.



Factor in the materials that are compatible to your requirements. Both the G2 and the S1 have stainless steel sensors. However, the G2 uses a nylon housing and stainless steel fitting, while the S1 has multiple housing and fitting options, including stainless steel, aluminum, carbon steel and brass.





Find out if there are any industry certifications or standards that your transducer needs to meet. Both the G2 and the S1, are UL/cUL certified, CE-approved and RoHS-compliant.




Finally, think about the process connections and fittings on your system. The S1 pressure transducer has both female or male connections, while the G2 only has male.

Last word on picking the right OEM pressure transducer.
So, given all this information, you understand how OEM pressure transducers play an integral role in a wide variety of industrial processes such as mobile hydraulics, pump monitoring, railroad pneumatics and performance racing. You also know that if you don't select the best transducer for your application, there could be unintended risks for your operators and equipment.

If you want to dig a little deeper, here are some additional resources that may be of interest:
Or, reach out today to talk to one of our industry experts and get all your pressure transducer questions answered.