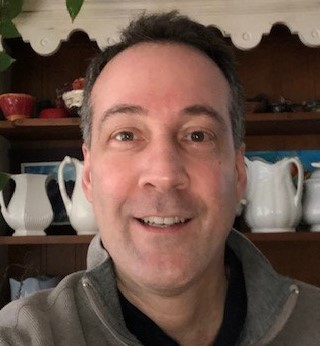 Selecting the Right Pressure Gauge for Ultra-High-Pressure Applications
Pressure gauges for 40,000 psi and above are critical for numerous applications where monitoring extremely high system pressures is a required safety precaution. Such gauges must be manufactured so they can withstand the rugged conditions they will be exposed to at these extremely high pressures.
Ultra-high-pressure applications are typically found on pumping systems used to generate flow at extremely high pressures. Your pressure gauge must be able to withstand extreme pulsation and vibration. If it is not manufactured to tolerate such conditions, it can fail and cause damage to your equipment or possibly your operators.
How do you know if your pressure gauge is well-suited for ultra-high pressure?
This article will explain the requirements for a gauge to handle high stresses successfully and what you should consider when selecting a gauge for your process.
Considerations When Selecting Ultra-High-Pressure Gauges
Pressure gauges manufactured for such conditions must be assembled to exacting standards. Only gauges manufactured per ASME B40.100 or EN 837-1 should be considered. Gauges manufactured to these standards must pass fatigue and vibration testing to confirm they are suitable for use.
In addition, the long-term life cycling of the gauge can be enhanced by incorporating a throttling device within the gauge to reduce the hydraulic pressure spikes created by the pump. The design and type of throttling device should be reviewed based on the type of media and whether abrasives may be present, which can clog a throttling device.
The design and manufacture of the bourdon tube system is also an important factor. The design of the tube must be such that it can withstand very high pressures and potential overpressure of the system.
With ultra-high pressures, safety is of the utmost concern. Any pressure gauge used for these ultra-high pressures should always have a solid-front case style.
A solid-front case is designed with a solid internal wall, which has the bourdon tube located toward the rear of the case. In the event of a catastrophic event, the tube will rupture towards the rear and not the front of the case where an operator may be located (see Figure 1 below).
Figure 1: Solid Front Pressure Gauge Operation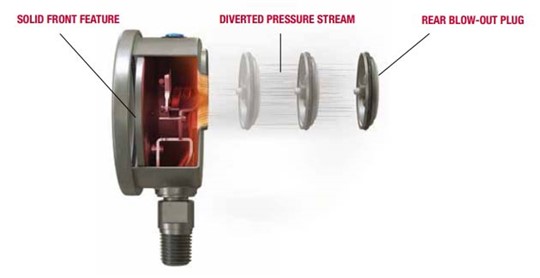 The process connection is also an important safety consideration. With NPT unable to contain higher pressures, you will need a stronger, better-sealing fitting that's designed specifically for high pressure.
Depending on the level of pressure in your application, there are several types of connections to choose from. In instrumentation, the most common is the 9/16 -18 in. UNF-2B female port for ¼ in. O.D. high-pressure tubing (often designated by the brand reference "Autoclave F-250-C").
The inlet itself is a simple female straight-thread port, distinguishable by its interior flat bottom with a counter-sunk pressure passage hole in the center (see Figures 2 and 3 below).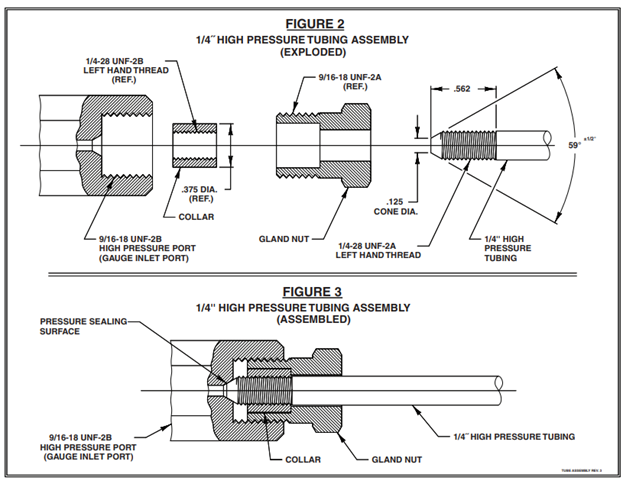 Common Ultra-High-Pressure Applications
There are a number of applications that require specialized instruments that are designed to handle ultra-high-pressure environments.
Water Blaster
Water blaster applications use pressurized water to clean. These pressures range from 10,000 to 40,000 psi. Typical applications are:
Heat exchanger cleaning

Pipe cleaning

Tank and pressure vessel cleaning

Tank trucks

Process line and reactor cleaning

Surface preparation and profiling

Refractory and rubber lining removal

Scales, coatings and epoxy removal

Vapor, polymer and resin lines cleaning

Paint booth cleaning
Water Jet
These applications present a unique set of challenges in measuring pressure. With high pressures of 35,000 psi and above, coupled with the presence of vibration and pulsation, these applications demand rugged pressure instrumentation.
In these applications, high-pressure water, often mixed with an abrasive, is used to cut a variety of materials such as:
Metal

Concrete

Stone

Asphalt

Glass

Plastic
Ashcroft Ultra-High-Pressure Gauges
Ashcroft offers quality options for ultra-high-pressure gauges. These gauges are specially made to withstand high-stress applications.

1379 Pressure Gauge
The 1379 pressure gauge is manufactured per ASME B40.1 specifications. The gauge has a solid-front, 6-inch dial size and aluminum case. Key features include:
Pressure ranges available up to 100,000 psi

Micrometer adjustable pointer

PLUS!™ Performance option dampens vibration, shock and pulsation effects

T6500 Pressure Gauge
The T6500 pressure gauge is manufactured per EN 837 specifications. The gauge has a solid-front, 100 mm dial size and is available in 304 Stainless steel (standard) or 316 Stainless steel (YW option). Key features include:
High pressure up to 100,000 psi (7,000 bar)

Solid-front, all-welded, Stainless-steel case

Weatherproof protection IP66

ATEX approval Ex II 2 GD c

Dry, liquid filled or PLUS!™ Performance option
We don't like to pressure you, but we have more information.
Now that you know what factors to consider when finding a quality ultra-high-pressure gauge, you can research the solution that's right for you to help keep your process running and your operators safe.
For more information on pressure gauges, check out some other articles we've written:
Feel free to contact us today to talk with one of our experts and get all your measuring instrument questions answered.
You can also download our eBook to learn how to avoid pressure equipment failure:
About Paul Francoletti, Senior Product Manager
Paul Francoletti is the Senior Product Manager for Process Gauges and Accessories at Ashcroft. He has spent the past 13 years in numerous roles at Ashcroft ranging from Technical Support, EPC Support Manager and now, Senior Product Manager.