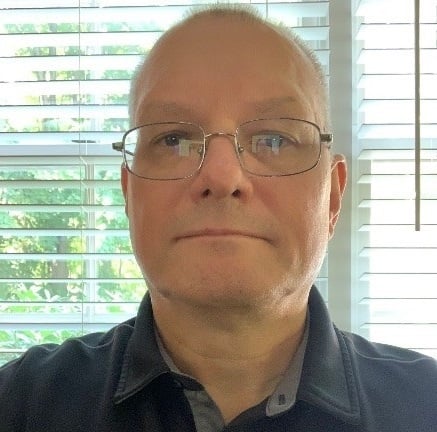 Choosing Pressure Transducers for Hydrogen and Hazardous Locations
pressure transducer | Pressure Instruments | Hydrogen | safety features | ultra high pressure
If you work in an industry that involves hydrogen, or other volatile substances, you understand the dangers that you and your team face daily. But do you know that any equipment used in these environments (aka hazardous locations) must meet certain requirements and be designed to help contain or prevent a fire or explosion from occurring in the first place?

For example, certain pressure sensors like the E2F Flameproof and E2S Intrinsically Safe pressure transducers are built to withstand or prevent explosions and fires in hazardous locations. This makes them effective options for managing pressure in complex industrial applications.

Ashcroft is a recognized leader in pressure and temperature instrumentation and has been for more than a century and a half. In my role as product leader, I am familiar with the complex nature of hydrogen and have been educating customers on how to select the best sensors to meet the stringent quality and safety requirements for highly combustible environments.

This article will explain the factors and classifications of a hazardous location, the product certifications that are required for use in these environments and the solutions available to help keep you and your team safe.

When you are done reading this article, you will have a better understanding of what type of pressure transducer you will need for your application and be ready to take the next step in your purchasing decision.

Definition of a hazardous location.
According to The National Electrical Code (NEC), a hazardous location is a place where there is a risk of fire or explosion due to the presence of flammable gases/vapors/materials (fuel), an ignition source, and air (oxygen).

Because of the dangers these environments pose, any electrical equipment, such as pressure switches and transducers, used in hazardous areas must be designed to contain or prevent a fire or explosion from occurring. The common goal in these designs is to remove the ignition source thus mitigating the risk of a potential hazard.
Figure 1: Fire Triangle Figure 2: No Ignition Source, No Fire

What organizations, authorities and testing labs regulate hazardous locations?
Numerous organizations and authorities are involved with ensuring electrical equipment meets hazardous location requirements, including:
1. Standards organizations

Hazardous areas can be classified using two systems: Class/Division/Group or Zone. Companies in the United States and Canada primarily use the Class/Division/Group system, while companies in the rest of the world use the Zone system.

For example, the National Fire Protection Association (NFPA) and National Electric Code (NEC) provide standards for the United States and the Canadian Electrical Code (CEC) for Canadian companies using the Class/Division/Group system:
"Class" focuses on the overall nature of the hazard (gas, vapor or dust).

"Division" focuses on the probability of a hazard occurring (see figures 2 below).
Division 1 = hazard exists under normal conditions.


Division 2 = hazard not present under normal conditions, but could become present under abnormal conditions.

"Group" focuses on rating how easily the substance can be ignited as compared to other flammable substances.
Figure 3: Division System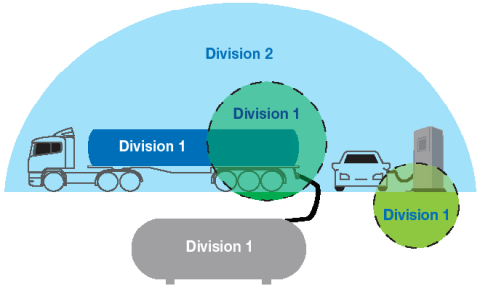 The International Electrotechnical Commission (IEC) on the other hand, provides standards using the Zone System for companies around the globe. The Zone system is segmented as follows (see Figure 4 below):
Zone 0: the hazard is continuously present.
Zone 1: the hazard is most likely to occur.
Zone 2: the hazard is not likely to occur.
Figure 4: Zone System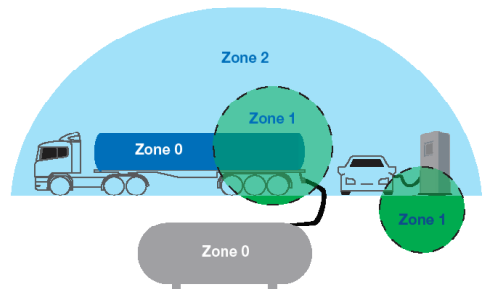 2. Nationally recognized testing labs (NRTLs)
NRTLS are organizations empowered by OSHA to certify compliance to recognized standards. They test to the NEC or the Canadian Electrical Code (CEC) following their own test procedures or standards. Notified Bodies are similar to NRTLs, but they certify to the IEC standards (ATEX, IECEx).
Examples include:
Underwriter's Laboratories (UL)
Factory Mutual Research Corporation (FM)
Canadian Standards Association (CSA)
Safety Industry Regulatory Authority (SIRA)
All of these NRTLs test to the NEC or CEC codes following their own test procedures or standards. They can also test to the IEC standards and, through their own international associations, issue ATEX or IECEx approvals.

A note of caution: UL, FM, and CSA offer approvals for other safety requirements, so you need to be sure of which specific approval the instrument has. The instrument label will clearly identify any hazardous location approvals and requirements.
3. Code-enforcing authorities

Code-enforcing authorities - those that have jurisdiction - are entities responsible for approving a specific installation of a hazardous location. These can include:
Local inspector

Insurance underwriter's representative

Municipal authority (fire marshall or electrical inspector)
All hazardous location equipment being used must be able to meet the specific division or zone requirements and be clearly marked with its ratings (see Figure 5 below).
Figure 5: Code Markings on an Ashcroft Product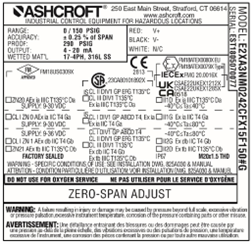 Pressure transducer protection methods.
Transducers are designed to do the one thing that will ultimately prevent a fire or explosion: take away the ignition source. Doing this will protect your people, the process and the equipment involved in your hazardous location applications.
There are three methods of production pressure transducers use to accomplish this goal:
Make the device explosion and frame-proof. By containing the flame path inside the enclosure when a fire or explosion occurs, the heat and energy get redirected to pass through multiple threads thereby reducing the temperature and energy to a safer level once the event is over.

Make the device intrinsically safe. Intrinsic safety approvals mean the sensor uses a type of barrier that limits the energy applied to an instrument to prevent a spark or explosion from occurring. The barrier is the buffer between the hazardous location and the non-hazardous locations. This is the safest method and is the only method approved for Zone 0 applications where the hazard is continuously present.

Make the device non-incendive (increased safety). Non-incendive Safety approvals involve limiting the energy that is applied to an instrument to prevent an explosion without the use of a barrier. The user's design must limit the energy to the instrument. This can only be used in division 2 hazardous areas where the hazard is not present in normal conditions but could be present in abnormal operations like the surrounding air.

In the past agencies such as ATEX and IEC provided an approval very similar to non-incendive called non-sparking. The non-sparking standards have been replaced by a new standard called increased safety. Increased safety combines the low power requirements of the non-incendive approval with ingress protection ratings for connectors. NOTE: These types of installations require the use of third-party approved non-incendive field wiring concepts.
Are you ready to learn more about pressure transducers for hazardous locations?
You now have a lot of information to consider when it comes to choosing a pressure transducer for hydrogen applications and hazardous locations. From definitions to classifications, regulatory bodies and product features, you can say you scratched the surface. The bottom line is, no matter what industry you work in, the process of buying pressure transducers for hazardous situations should be approached with extra caution. A good place to go from here is to download our hydrogen guide and learn more about the E2F Flameproof and E2S Intrinsically Safe pressure transducers.

To learn more, download our hydrogen guide.
For more information, check out some of our other related articles:
Choosing the Right Pressure Sensor: 5 Factors to Consider
How Are Pressure Transducers Affected by Hydrogen Permeation?
How Much Do Pressure Transducers Cost? (6 Factors Impacting Price)
How Does Media Temperature Affect Pressure Transducer Performance?
For personalized assistance, feel free to reach out directly to one of our experts.