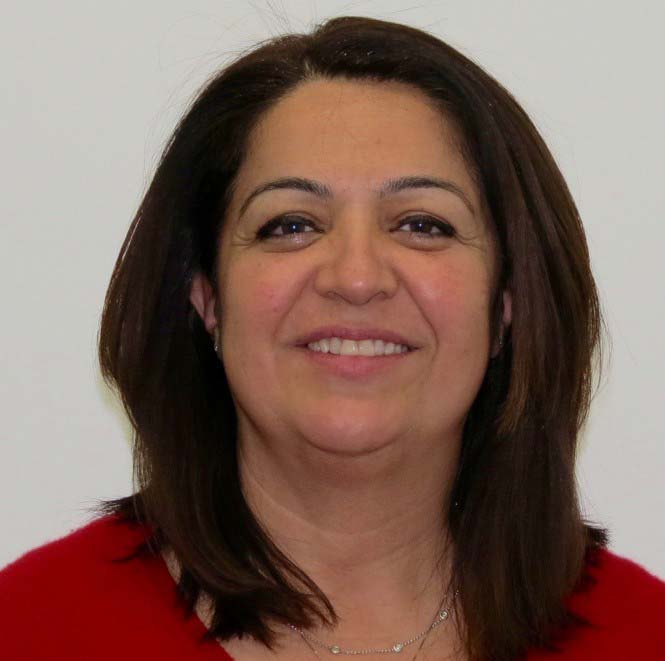 When to Use a Diaphragm Seal vs. an Isolation Ring
Diaphragm seals and isolation rings are both integral to the safe and efficient operation of your application. Whether it is a chemical plant, water treatment plant or mining facility, isolators such as diaphragm seals and isolation rings are used throughout the plant to protect instrumentation from harsh process media.
But what's the difference between the two? When would you use a diaphragm seal instead of an isolation ring? Throughout my career, I've heard this question a lot.
This article will describe the two and explain the situations in which you would use one over the other and why.
What is a Diaphragm Seal?
A diaphragm seal is a device installed between the process media and one or more instruments. It includes a thin, flexible membrane (the diaphragm) that isolates an instrument(s) from the process media. They are a vital component for applications that involve harsh, corrosive chemicals or media with particulates that could clog the sensing element of the instrument assembly.
A quality diaphragm seal can provide a leak-tight and corrosion-resistant seal between a pressure instrument and your process.
The applications in which you would use a diaphragm seal depend on several factors.
When to Use a Diaphragm Seal
Diaphragm seals can be used for corrosive media or media that will have a small amount of particulates. If it's too labor intensive for the customer to flush out the inside of the lower housing of the seal, the seal won't be suitable for the application.
It's also important to consider the size of the solids. Think of sand, golf balls and tennis balls. If the percentage of solids is on the lower side and the size of solids is small (like the size of sand particles, for example), a diaphragm seal may be appropriate.
Some diaphragm seal designs are less prone to clogging, including inline diaphragm seals, saddle seals or flanged seals with an extended diaphragm. Some seal designs include a flushing port, which flushes material to avoid clogging, but if the particulate is too rough/ abrasive, it can damage the metallic diaphragm.
Both diaphragm seals and isolation rings can address clogging and corrosion concerns. But, you must consider what wetted material to use by considering what kind of particulates are present in the application (and if they are abrasive), what kind of metal or elastomer you need and its media compatibility.
What is an Isolation Ring?
An isolation ring is another type of isolator that helps protect pressure measuring instruments from exposure to certain processes. They isolate instruments such as pressure gauges, switches and high-priced transmitters from the process material to prevent damage.
When to Use an Isolation Ring
Isolation rings are used primarily for sludges and slurries that would otherwise clog the cavities of a diaphragm seal. While diaphragm seals may primarily be used for corrosion concerns, isolation rings are used to prevent clogging.
Although isolation rings operate much like a diaphragm seal, the design is much better suited to deal with abrasive particulate in a process. The sensing elements (also referred to as liners or bladders) can range from being more chemically resistant (such as PTFE) to more durable like Buna or natural rubber. These materials better withstand the continuous impact of particulate pushing through the piping.
Isolation rings can be threaded or flanged into the process. When flanged, they can either be designed with bolt holes (lug style) that line up with the piping flanges or wafer style, which would be sandwiched between the two flanges. More importantly, isolation rings can range in size from ½-inch piping all the way up to 36 or more inches. The larger the isolation ring, the more difficult the installation and the more expensive the eventual repair/replacement will be.
Regardless of the size, removing the isolation ring is not easy. At a minimum, the process would have to be shut down while the piping is cleaned, and the flange is dismantled. For repairs, the isolation rings would have to be properly cleaned and sanitized before being sent off for recalibration, system fluid refill or any other typical maintenance.
Some manufacturers provide ways to disconnect the instruments from the isolation rings without compromising the system fill. Ashcroft offers the Safe Quick Release (SQR) feature that has a dry break coupling that allows the removal of the instrument without losing fill fluid.
In these cases, regular maintenance is required, and consistent upkeep of equipment is very important.
Some systems are designed with isolation rings, while others exclusively use diaphragm seals exposing their assemblies to the risk of clogging. It's vital to make sure you are using the right equipment to meet your needs.
Ashcroft's Recommendations
When helping customers select the right equipment for their application, we look at a variety of moving parts: how it's being installed, the size and concentration of particulates, the composition of media, and system pressure and temperature (isolation rings are limited in pressure and temperature).
There is also cost to consider. Isolation rings tend to cost more than diaphragm seals, so using an isolation ring in a situation that doesn't require it could be a waste of money.
In summary, we look at it from an overarching application perspective to decide whether an isolation ring or diaphragm seal is best.
The Ashcroft® 201 threaded diaphragm seal protects pressure measuring instruments when process compatibility is required. The diaphragm material in this style isolator is available in a large variation of metallic, elastomeric and fluoropolymer options. These are also applied when the media exhibits a mild potential to clog an instrument connection. Its continuous-duty design prevents process fluid loss in the event the measuring instrument is removed or fails.
Figure 1: Ashcroft 201 threaded diaphragm seal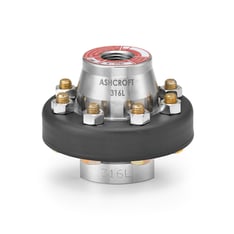 Other good diaphragm seal options include our 205 in-line saddle diaphragm seals, which are welded directly onto process piping to prevent process clogging or accumulation, or the 206 in-line flanged diaphragm seals, which are mounted in-line with the process piping for applications where continuous flow is required to prevent clogging. These options can be more cumbersome for installation, and slightly more costly but are good fits for both chemical compatibility as well as clogging concerns.
The Ashcroft® 82 threaded isolation ring is threaded in-line with process piping. It is designed for threaded piping systems to protect pressure measuring instruments by eliminating process accumulation for more accurate readings. Although very limited with corrosion resistance they are a very economical approach to avoid clogging. Smaller facilities may tap off larger pipes with smaller 1-inch or 2-inch piping and use an 82 series isolation ring for their instruments.
Figure 2: Ashcroft 82 threaded isolation ring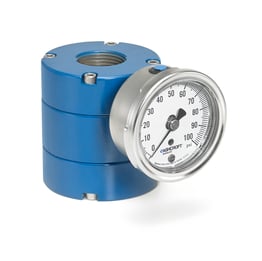 We don't like to pressure you, but we have more information.
Now that you understand the situations where you would use a diaphragm seal vs. an isolation ring, you can choose the best solution for your application and help protect your instruments from clogging or corrosion.
If you want more information on mounting accessories and assemblies, you can view our webinar about pressure instrument mounting assemblies or download our Complete Guide to Pressure Instrument Assembly.
We also have a few related blog articles you can read:
Feel free to contact us with any questions or concerns. Our industry experts at Ashcroft can help answer your questions and get you back on track!
About Hope Karimi-Sheumaker
Hope Karimi-Sheumaker is the Territory Sales Manager (Channel/Distribution) at Ashcroft, responsible for 8 ½ states in the West, Southwest and mountain region. She started her career at Ashcroft in 2018 with 25+ years of experience in the fields of Instrumentation, Filtration, and Valve automation, with a strong focus on process. She enjoys working with distributors, EPCs, and end-customers in many areas including water/wastewater, oil and gas, food and beverage, high purity, and pharmaceutical to name a few, with a focus on providing solutions. In her off time, she enjoys outdoor activities with her family, fostering fur babies and leisure travel, especially cruises.