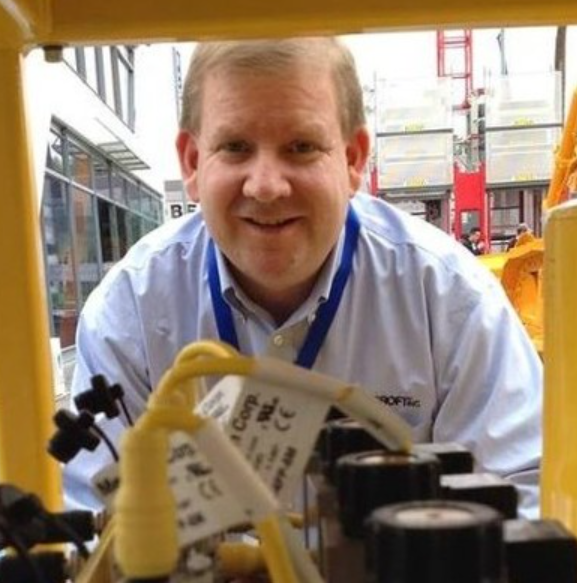 Ratiometric Analog Outputs for OEM Pressure Transducer Applications
If you are an Original Equipment Manufacturer (OEM) looking to optimize cost and streamline installation processes, you'll want to learn more about ratiometric (RM) output pressure transducers. These highly efficient and cost-effective solutions are engineered to accommodate a wide range of applications, such as off-highway vehicles (OHV), motorsports, and mobile hydraulic systems.

I recently published a blog that reviewed three key factors to consider when selecting an OEM pressure transducer: reliability, durability, and repeatability. Ratiometric output transducers incorporate all three factors and more. In this article, you will learn how these pressure measurement instruments can help you achieve cost savings while ensuring seamless integration and enhanced performance in demanding environments.
What is ratiometric output?
The term "ratiometric" refers to an output signal that changes in direct proportion to a change in input or supply voltage. In other words, as the supply voltage fluctuates, the zero point and sensitivity of the output signal also vary accordingly.

The concept behind this type of output is to use the same reference voltage for both the sensor and the display, such as an A/D converter. This ensures that any error in the reference voltage is automatically compensated for.

Analog output signals are commonly used in pressure, temperature and other types of sensors. When it comes to analog output, there are various input/output (I/O) options available, including those listed in the table below.
Figure 1: Analog Output Options.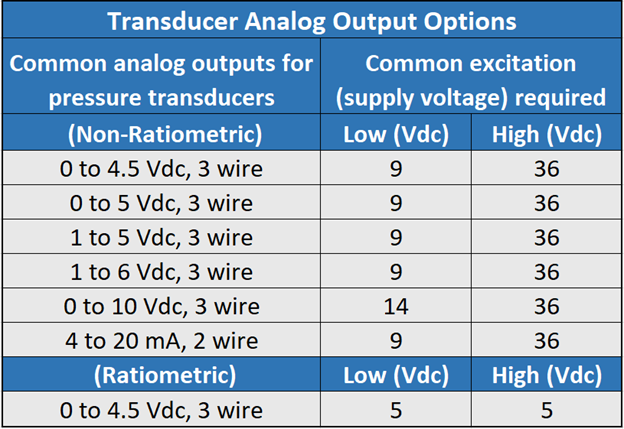 Common non-ratiometric output signals include 1-5 Vdc, 0-10 Vdc and 4-20 mA. These types of outputs normally require minimum excitation voltages of 9 to 14 Vdc, which can be difficult to design into equipment running off of typical 12 Vdc battery systems used on vehicles and other mobile equipment applications. However, keep in mind dc battery systems can be subject to voltage loss under certain conditions. For instance, environmental factors or not being charged properly can cause voltage drops on a 12 Vdc battery that can fall to 9 Vdc or below, creating supply voltage issues to operate the transducer.

Ratiometric outputs, on the other hand, require a fixed regulated power supply source that can be low voltage and does not require internal power regulators. That makes them ideal for use on vehicle and mobile equipment applications where space and power requirements are a factor.
How ratiometric output works.

Ratiometric sensors typically operate on a supply voltage of 5 VDC, with a tolerance of +/- 10%. The output of the device is directly proportional to the input, ranging from 10% to 90%. To illustrate, consider a scenario where you have a 5.00 VDC supply and a pressure sensor with a range of 100 psi. In this case, when there is no pressure on the port (0 psi), the output will be 0.5 V. Conversely, when there is full pressure on the port (100 psi), the output will be 4.5 V.

Figure 2: Output Voltage with Input Voltage 5.00 Vdc.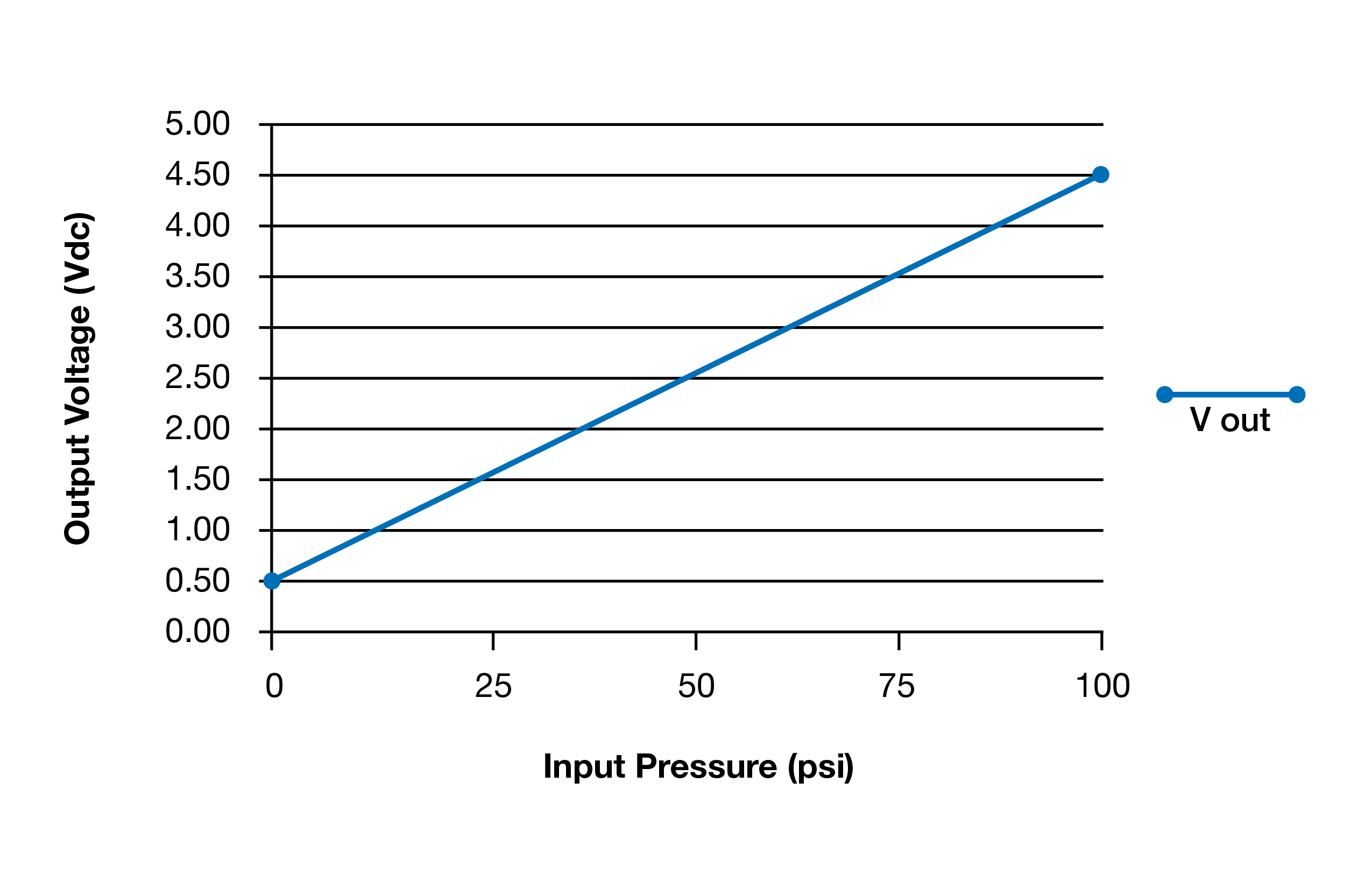 Benefits of ratiometric transducers.
As previously stated, when purchasing a pressure transducer for OEM applications, the top three features to look for include:
Reliability

. Ability to test pressure with the same tool and get a consistent reading every time. No need for a span adjustment.



Durability

- Rugged construction designed to withstand vibration, pressure spikes and pulsation that are common in OEM applications.



Accuracy

- Technology that ensures you meet the minimum requirements of the application such as field-proven polysilicon, and thin film (CVD) pressure sensor technology.
In addition to those above, ratiometric transducers offer:
Ease of design and installation

. Ratiometric output transducers require less peripheral equipment to work in a system.


Low-power, low-current consumption options. These sensors are able to run with lower voltage power supplies, leading to lower costs for OEM product design and installation value to the end-user.



Multiple signal configurations

. Ratiometric sensors fit a variety of electronics options, power supplies and PLCs.



"Live Zero" options

. Improved troubleshooting support (for example, no power vs system/sensor failure).


Challenges of ratiometric outputs.
Unlike digital or 4-20 mA outputs, which are less affected by cable length, ratiometric outputs require a fixed low-power voltage source, so signal loss and noise interference can occur as cable lengths increase. With that in mind, the cable and sensor should be installed away from noise sources such as Variable Frequency Devices (VFD), high voltage cables, etc., or shielded after installation.
Examples of ratiometric output transducers.
Ashcroft has been providing pressure sensors to the OEM market for more than 30 years for use with oil/fuel systems, brakes, manifolds, transmission, diagnostics and more. Transducers that offer ratiometric output include:


The S1 high-volume sensor is compact and highly configurable. It offers a wide selection of material and connection choices that are designed for vibration, shock and high cycle life.
The G2 rugged-design sensor is engineered for installations and conditions that also produce substantial vibration, shock and high-cycle life.
The G3 highly compatible sensor is designed with all 316L stainless steel wetted parts for use with many types of process media and is available for low-pressure, vacuum or absolute pressure applications.

The KTS1 temperature sensor is designed for rugged OEM applications requiring analog outputs
Each of these pressure transducers incorporates Ashcroft's proven sensing technologies to provide a cost-effective option designed with easy installation and cost-saving benefits.

Did we answer your questions about ratiometric outputs?
I hope that you now have a better understanding of ratiometric voltage output and the benefits of using these types of pressure transducers for your OEM needs. Of course, we have a lot more information to share about pressure transducers if you need to dig a little deeper.
For instance, you can start by reading a few other articles that we have written on the subject, including:
Or, reach out today to talk to one of our industry experts and get all your pressure transducer questions answered.